11-19-2016, 10:55 PM
| | | | | |
| --- | --- | --- | --- | --- |
| | Egg | | | |
Rest In Peace Albie <3
---
Albie has passed away and is being missed by Ink and me and my parents very much, she was very weak and ruffled her feathers and fell off her stand, i pick her back up and settle her back on her perch and assume she was very tired (it was betime and i was saying goodnight to them, they live in our spare room), the next day i hear them chattering along and about a hour or 2 later my mother comes out of the room with a sad look of her face and she says she has bad news, for some reason i just knew it was Albie and she nodded..we buried her in a plant pot with a rose and since then the rose has grown like crazy, i hope Albie will be on the rainbow bridge in the clouds with many of our other passed pets and stars..she passed away on 6/11/2016 and will be missed dearly.
We love you Albie, Ink misses you and we know you're looking over all of us.
Rest in peace Albie, i love you silly baby girl.
__________________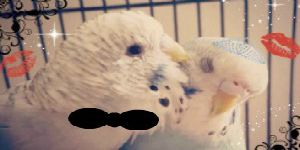 "Love is like a virus. It can happen to anybody at any time."
*Maya Anglou*
Rest In Peace Albie <3