09-08-2014, 11:13 PM
Member of the Month March 2011

State:
How To Use The Like/Share Button Feature
---
How-To Use The Like/Share Button Feature

Since we have a new "Like/Share" feature on the forums we thought a a How-to about them might be helpful to show everyone how it works!


So to start off lets cover where the new buttons are located
If you look at the bottom right of any post you will see the two clickable links "Like" and Share" which are outlined in red below. I hope you don't mind my using your post Nick, it was the first post in the thread




The exception to this will of course be your own posts. Because you can not like your own posts the button is not an option. You can share your own posts with a number of social media sites using the "Share" link


So what happens when you get a "Like"? You will get a notification very similar to a private message, friend request etc. A notification will pop up like this:






After clicking on the notification, scroll down to the bottom of the drop down menu and click on "New Likes Received"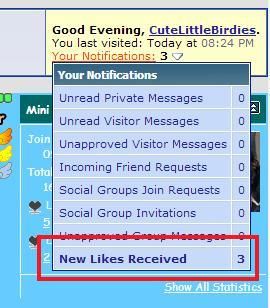 You can then see each of your posts that members have "Liked"! Thanks so much for my first one Deb!





In addition, you can find "Likes" directly on any given post like this:






And at the top of each thread if it has received any:




And lastly, if you click on your profile (or any other members profile) under "Mini Statistics" you can find the total number of posts you have liked personally, and how many of your posts members have liked!






I hope this has helped get everyone used to our new feature. Let the "Liking" begin!