12-01-2007, 10:00 AM
Young Budgie

State:
---
My little guy is sitting a bit away from my computer, about two to three feet. Only my monitor is facing a different direction then my budgie, so he can't see the screen, but rather the side of it, if that makes sense.
However, his cage is really small at the moment and I'm in the process of begging for a larger one (for not just my spoiled little man, but hopefully another budgie or two in the coming months
).
Once I get the larger cage, I, too, have been worried about placement. I worried about the window at first, thinking that Attie could potentially not know it's glass and hurt himself flying against it. As of yet, he's not seen a window. I've had the blinds down when he's flying about.
Wow.. my whole post was completely pointless lol!
Bah, I just woke up, don't mind my babbling!
__________________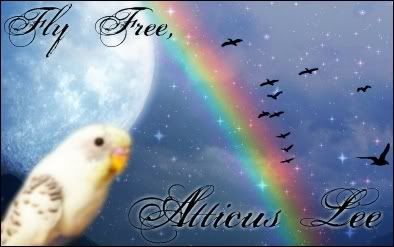 Thank you, Dannii =]