10-11-2008, 08:55 PM
Member of the Month

State:
---
Hmmm... they might start to clean themselves. Also, if they ate something, sometimes the food rubs off on them. I know when my budgies have carrots, both of them grow orange beards
But, if that doesn't work, I would definitely give them a bath (if it's warm enough, of course!
) That might help release some of the oils under their feathers to help with the cleaning. You can either give them a dish, with lukewarm water in it, to wade in, or mist them with a spray bottle. My budgies LOVE being sprayed!
Hope that helps!! You can see what the other members suggest!
__________________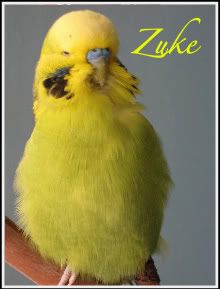 Little Joe and Zuke