Welcome to the forums!
You have certainly come to the right place as you will find all you need to know on budgie care here.
The information on the several articles and sticky threads at the top of each section of the forums will be extremely useful and of benefit to you and your budgie pair.
From your question, I gather that this will be your first time in breeding your budgies.
For how long have you had budgies as pets?
How old is your current pair?
Are you sure your budgies aren't related?
What diet are they on?
Before taking the breeding route and in order to do so more safely, a person should have a very good grasp of the species (this comes with real life experience in budgie ownership) and to do the required research into the subject.
The decision to breed comes with a whole lot of responsibility and commitment, the lives of the breeding pair(s) and the chicks are depending on you and the response you give if/when faced with adversity.
Things like being able to tell if your breeding pair is in good health and top physical condition to go through breeding; when a hen is expecting an egg or if she is showing the first signs of being egg bound; when a chick is having developmental problems, not being fed or showing signs of dehydration;
when there is aggression, abandonment and neglect of the chicks and it's solely up to you to feed and raise the chicks. The ability to detect early on and solve these issues can truly make a difference on the outcome of your breeding journey.
Please read this link:
A heartfelt plea to forum members new and old
Now onto your question, are you sure you got a proper nest box for breeding budgies? It's very strange for the box to not have an entrance area.
It's also best to attach the nest box onto one of the cage's doors in order to facilitate the whole breeding journey, of keeping track of all laid eggs and for the daily checks on the growing chicks, of cleaning the nest box, etc.
Depending on the cage that you have, it may not be ideal to use for breeding purposes and depending on the layout, you may need to get a more appropriate cage for your budgies to breed.
It's not advisable to purposely remove cage bars in order to fit in a nest box because by doing so, the cage will no longer be suitable to use after the breeding journey is finished, since there will be a big hole on the place where the nest used to be and to permanently keep the nest box on the cage is also not suitable as that would encourage further breeding.
Another option would be to custom make a nest box for your budgies.
You can use pine wood to build a nest box. Or you can simply get another cage, one that has a good area to fit in a nest box with no problem at all.
In this picture you can see a nest box perfectly attached to one of the cage's doors.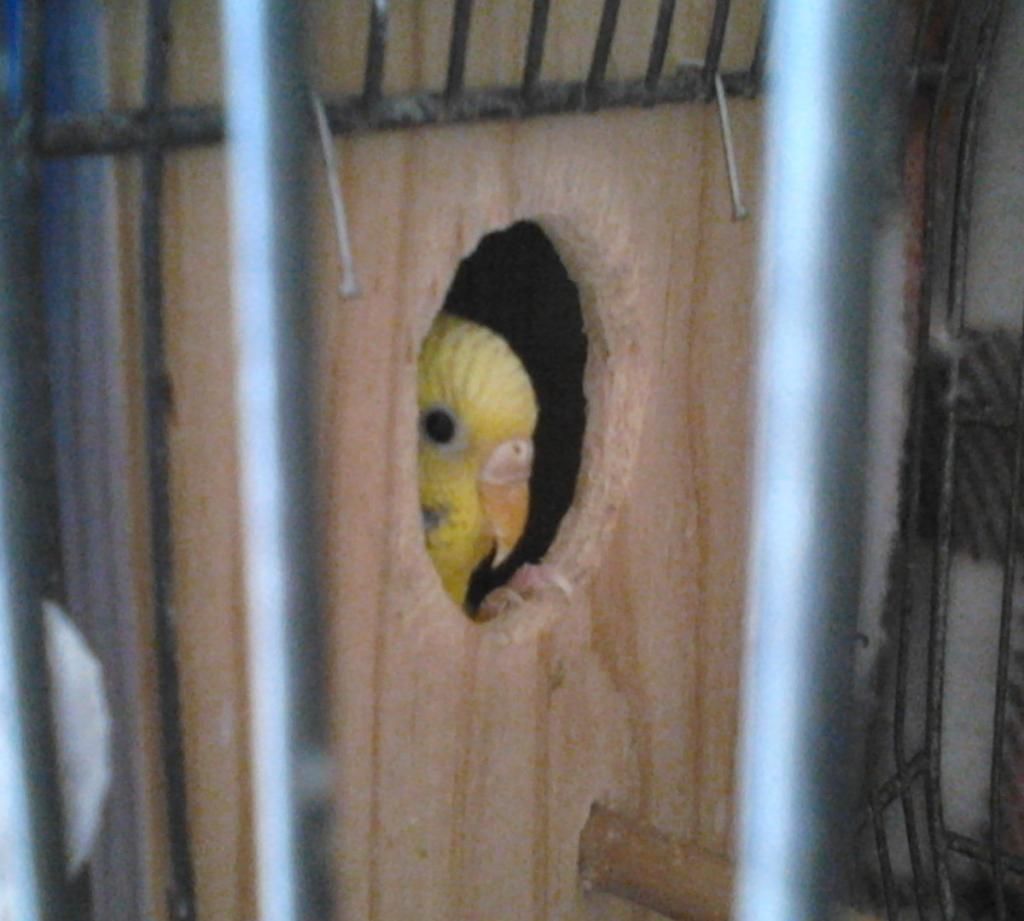 Here's another one: