May be getting ahead of myself, but I found a genetic calculator and had to see what Herm and Iz's chicks might look like! I think I entered everything in correctly...
Not positive, though! This is what the results for the chicks would be, again, if I entered it in correctly. I'm super excited to see the mutations they express, being the genetics nerd that I am
Hermes is a sf goldenface cobalt greywing clearflight pied. Though, I don't know for sure if he's a clearflight or a poorly marked dominant pied or what. I'll know more if/when they have chicks. The calculator didn't have an option for clearflight but they had dutch pied so I entered that.
Izzy is a grey recessive pied cinnamon opaline.
I think I entered in the correct options...I had to add a blue to Izzy's because it kept giving me a green-grey mutation. And I think the 1.0 is for the male and 0.1 is for the female...I just guessed and since Izzy's the female with the cinnamon, her chicks won't express it, and it looks like that's what the calculator gave me.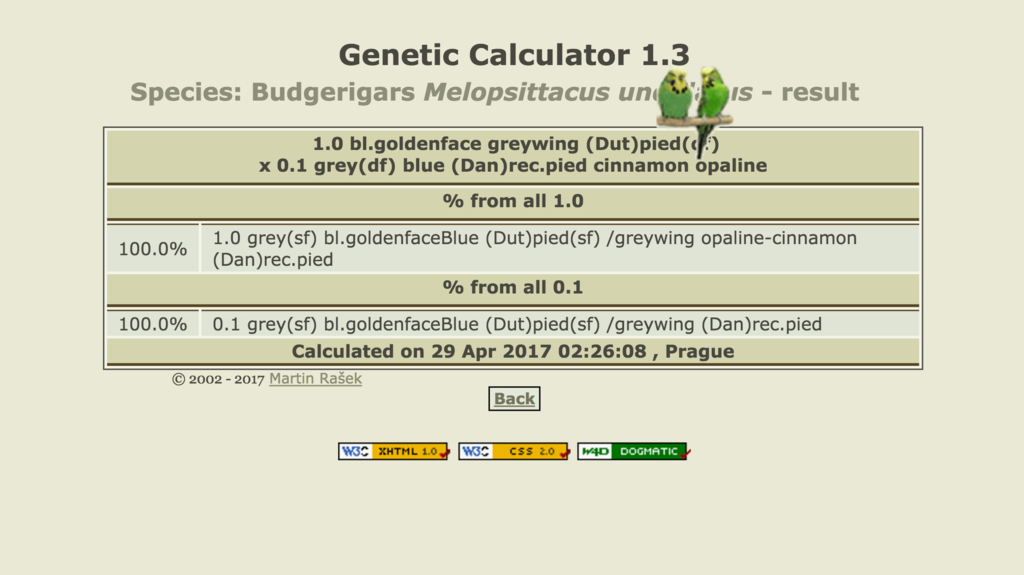 __________________
"For what does it profit a man to gain the world and forfeit his soul?" ~Mark 8:36
PM me if you want a custom art piece of your Budgie done!
I also have animal cards (including Budgies) for sale here https://www.etsy.com/shop/KatzArtKreations?ref=hdr_shop_menu