User Menu
Forum Home
---
Budgie Gallery
---
Budgie FAQ
---
Site Guidelines
---
How-To-Guide
---
Members List
---
Today's Posts
Log In
Register now!
Search
---
Advanced Search
Popular Forums
Announcements
Budgie Articles
Budgie Talk
Budgie Pictures
Budgie Videos
Budgie Behavior
Determining Gender
Your Budgie's Health
Taming and Bonding
Budgie Breeding
In Memory
Other Birds
Contests
Chit Chat
Site Information
Talk Network
Talk Budgies
---
Talk Cockatiels
---
Talk Parrotlets
---
Talk Parrots
Sponsored Ads
| | |
| --- | --- |
| Advice needed for general behavior | |
01-09-2017, 10:33 AM
Newbie

State:
Advice needed for general behavior
---
Hello everyone,

I brought my male budgie, Buddy, home in mid-October. His personality is pretty reserved and calm. I spend time with him daily and keep trying new things with him; he's used to my hand and getting more used to hanging out with me.

I'm worried, though, because he won't eat anything other than seeds. I've tried to convert him to a pellet diet twice, but he won't eat them. I've offered him a variety of fruits and vegetables and some eggs but he won't eat those either--he'll sometimes nibble but won't ever actually eat anything. When the holidays and finals hit, I stopped offering, partly out of frustration.

I'm putting this in this forum because this seems to be a pattern for his general behavior. He ignores toys for the most part, preffering to sit all day (the times I'm home, at least) on his favorite perches, usually chittering softly to himself. He'll occasionally hit a string of bells, but ignores toys usually. He seems a lot more reserved than most parakeets I've seen and heard about, and doesn't seem very open at all to trying new things.

He's still kind of young, probably a little over 6 months at this point. I was hoping someone could weigh in with any advice or insight they had. I'm going to start trying to get him to eat other foods again this week and hopefully get him on a pellet diet. Does his other behavior of being very reserved and mostly inactive sound normal, though? Could it just be his personality?

Thank you!
01-09-2017, 12:31 PM
Super Moderator//Exceptional Service Award Recipient

State:
---
How much daily time on average do you spend with Buddy?
For solo budgies especially, it's important to spend more quality time with the budgie, working on bonding with him and having more of a close interaction on a daily basis. Providing an enriching environment and engaging your budgie in playful activities is also vital in order to prevent boredom from setting in. Some budgies don't know what toys are for and we are the ones that need to show them how they work and what they are for.
The trick to improving your budgie's diet is to not give up and to keep on offering the fresh foods. You will find all the detailed information on the stickies at the Diet and Nutrition section. Frustration is a feeling that should never be present when interacting with a pet bird.

From your description, your Buddy has likely more of a shy personality and it's up to you to continue to bond with him and to do your very best for his happiness (you can refer to the info at the Taming and Bonding section).

If you don't have much time to dedicate to Buddy, then you have two options. You can screen a potential new family experienced with budgies who will take good care of Buddy, or you can get Buddy a same species companion, preferably another male budgie for him to be friends with.
__________________
RIP sweet Tito (Summer 2008 - January 17th 2013).
You are missed and never will be forgotten.
01-09-2017, 02:09 PM
Administrator

State:
---
aluz has offered you excellent advice.
I'm looking forward to your answers to the questions she's asked.

It takes time and patience to convert a budgie to a new food.

Please take the time to read the tips on how to introduce new foods to your budgie which can be easily found in the stickies in the Diet and Nutrition section of the forum.

When I introduced pellets to my budgie, my Avian Vet recommended using Harrison's High Potency Mash and sprinkling it on the budgie's seed mix every day. This way, when the budgie hulls the seed it tastes the pellet mash and ingests bits of it as well. This helps the budgie identify the taste as a food source.

Many members seem to find the easiest pellets to use for introducing pellets to their budgies to be the CANARY sized Zupreem fruity pellets. Most budgies like the taste and the "Canary" sized pellets are tiny enough for them to easily eat them. Once they've become accustomed to the Fruity Pellets, introducing the smallest "natural" pellets is then an easy step.

Other than when I was using the Harrison's mash, I've never mixed my birds' pellets and seed together. My birds have three separate dishes each with a different brand/flavor of pellets available to them 24/7. Their seed is rationed to approximately 2 teaspoons of seed per budgie each day. I give them seed first thing in the morning right after putting clean newspapers on the bottom grate of the cages. I sprinkle their morning ration on the paper so they can forage for the seeds. I then do the same thing in the evenings (after replacing the soiled newspaper with clean) and again allow them to forage for their seed.

All of my birds have the option to eat the available pellets whenever they like throughout the day and they all enjoy them!

The first vegetable which my budgies that had not been weaned to vegetables tried (and loved) was sweet corn kernels sprinkled with a teeny bit of garlic powder (NOT salt).

Budgies seem to love "spicy" tastes.
They also adored fresh basil, cilantro, chickweed, zucchini and red pepper.


A Healthy Diet for your Budgie

Using ACV in your budgie's water works as a natural probiotic which promotes good digestive health.

http://talkbudgies.com/95-articles-h...ural-remedies/

__________________
01-09-2017, 02:20 PM
Member Spotlight Award Recipient

State:
---
Re. pellets . . . I found this takes a lot of patience and that's normal from what I've read. It can take 6 months to a year even. For me, I had to try 3 different pellet brands and had to work on it every day. I had to try different techniques ( many described here ) & I read up as well on the pellet company websites. And 4 months in, we still work on it every day to a degree. My budgie likes Roudybush Nibles and ZuPreem Canary-sized fruit flavored pellets ( I did these first as recommended in this thread.) Converting from seeds is very hard so don't think you're alone or that it's not normal for it to take a lot of time and patience. From what I've read that seems to be the average experience with a bird that was weaned on seeds.

Your budgie sounds very sweet. I wouldn't mind a sweet and shy budgie. That's better than a mean aggressive attacking one. I really like sweet, gentle budgies. I hope you can figure out what's best for the two of you.

2.5 months isn't all that long. My budgie has become more attached to me and more relaxed since the 2 month point. It's not "night and day" since then... he has his personality that he was born with.... but, he continues to blossom and do new things. Also he loses interest in toys and foods too. He used to be at times a kale maniac. Now I can see he's getting bored and indifferent to it so I need to chill out on the kale for a minute and give him other things.

Also there are things my budgie wouldn't eat in the beginning and I kept trying, and over time he adopted things he wouldn't eat initially. He didn't like carrot or flax seeds, & now he does. He liked kale and broccoli off the bat, but isn't into any fruit. He never liked eggs plain (& i tried many ways) ...still doesn't ... so I have to doctor up eggs to get him to eat them. ( mix with seeds and kale, etc.)

Would love to see a photo if you have a chance to post one.
---
Last edited by BlueBirdNYC; 01-09-2017 at

04:13 PM

.
01-10-2017, 10:13 PM
Newbie

State:
---
Thanks for the advice, everyone. I've been focusing on spending a lot more time with him over the past two weeks and his behavior is improving some. I think it's partially his personality--shy and reserved--and partially my own fault for not spending as much time as I should have with him. I never get angry or frustrated when I'm with him, but I guess I did slack off on spending more time with him, between school and everything. I'd like to get him a companion eventually, but right now I don't know if I have enough room for two cages like I'd need to introduce a second bird (I rent a room from the landlord and he has to stay in my room). It's something I'm looking into.

I've read the articles from those sections and will keep trying different foods with him, consistently. I bought some grapes yesterday and will be introducing him to those these next two weeks.

I'll have to post a picture of him soon--don't know how to use Photobucket yet, but that's something I'll do before the end of the week.
01-11-2017, 06:27 AM
Administrator

State:
---
Thanks for the update, Matthew!

You can practice uploading photos from Photobucket or another photo-sharing service in the "Test Forum" found under "Site Information" if you would like to before trying to include them in your thread.


To upload full-sized pictures with the proper orientation, please use a photo-sharing service such as PhotoBucket and follow the steps in these instructions:
How to Post Pictures from PhotoBucket

By the way, all photos entered in any of our forum contests must be a full-size photo and not a thumbnail attachment so it's good to know how to upload them!


I look forward to "meeting" Buddy!
__________________
01-14-2017, 12:02 PM
Newbie

State:
---
So, here's Buddy! I got this picture this morning. He's been doing okay this week--been a little more active on some days, but today he seems pretty lethargic and didn't want to be out of his cage. Been spending the morning in the room with him, singing to him and getting stuff done.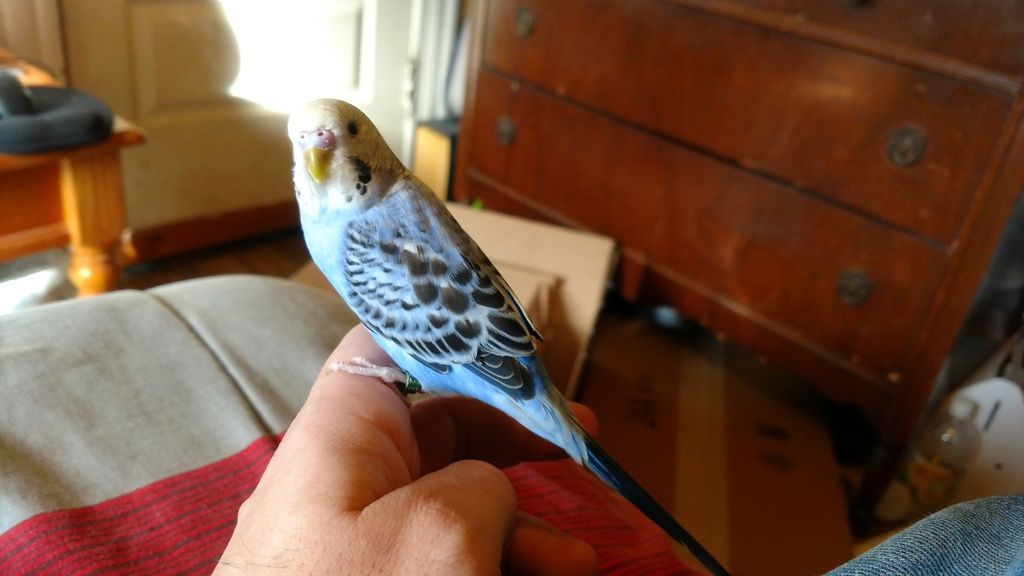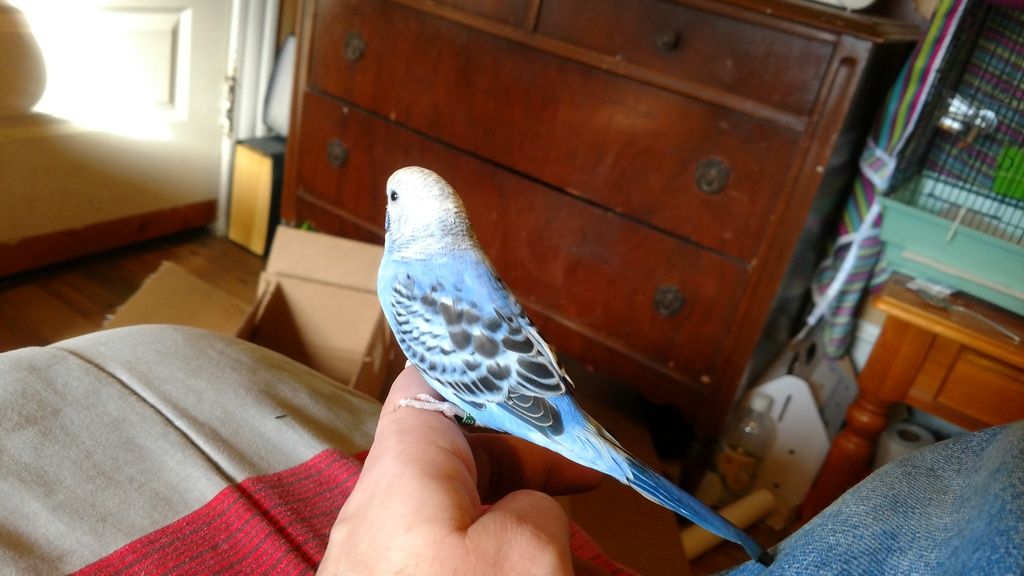 01-14-2017, 12:05 PM
Administrator

State:
---
It may be the lighting in your pictures (well done on the uploading of them, by the way) but your Buddy appears to me to be a female.

If you could post clear full frontal pictures of the cere taken in natural light (no flash and no direct sunlight) we'll be able to tell for sure.

Buddy is a cutie! Some active days and some not-so-active days is normal - just like with people.
__________________
Posting Rules

You may not post new threads

You may not post replies

You may not post attachments

You may not edit your posts

---

HTML code is Off

---
All times are GMT -4. The time now is
08:10 PM
.