User Menu
Forum Home
---
Budgie Gallery
---
Budgie FAQ
---
Site Guidelines
---
How-To-Guide
---
Members List
---
Today's Posts
Log In
Register now!
Search
---
Advanced Search
Popular Forums
Announcements
Budgie Articles
Budgie Talk
Budgie Pictures
Budgie Videos
Budgie Behavior
Determining Gender
Your Budgie's Health
Taming and Bonding
Budgie Breeding
In Memory
Other Birds
Contests
Chit Chat
Site Information
Talk Network
Talk Budgies
---
Talk Cockatiels
---
Talk Parrotlets
---
Talk Parrots
Sponsored Ads
Budgie Behavior
Wondering about why your budgie behaves in certain ways? Talk about it here!
| | |
| --- | --- |
| | |
04-16-2009, 09:56 PM
| | | | |
| --- | --- | --- | --- |
| Egg | | | |
Territorial budgie?
---
My (presumably male) budgie is not tame. But lately I've noticed that he seemed a bit more interactive, coming up to the cage door when I am in a room, singing louder, etc.
So I decided to give it a try and offered him some seed from my hand, instead of putting it in his food dish.
He seemed somewhat interested, but then bit me! At first not that strong. Seeing no reaction from me, he waited a little bit. Looked on, and bit me again!! This time a lot stronger, this time I withdrew my hand and seed and have left him to cool for a bit.
The question is, is he being territorial, and if yes, what can I do about it? I've always tried to bond with him, but it always ended something like today.
04-16-2009, 11:20 PM
Member of the Month

State:
---
It can be frustrating, huh?!
I would not so much classify it as territorial, but as a simple stimulus response. Your bird was uncomfortable with your approaching hand. Your bird wanted your hand to go away more than he wanted the food you had to offer. In this instance, your hand is classified as an aversive; something your bird is trying to avoid. As an example, if I hate spiders, you could put a jelly bean on the back of one of them, and I would not be interested in taking it off... not matter how much I loved jelly beans. Now, if it was a million dollars (a stronger reward), I might be convinced. It depends upon how deep my fear is, and how high the reward is.
He most likely signaled you prior to the bite with leaning away, or moving away, and possibly the hand followed him to a new perch or in someway either continued to pursue, or did not leave him. Therefore, he took moved to Plan B - if I bite the hand perhaps it
then
it will move away.
On his first try at Plan B, that did not work either; the hand stayed there - steady. After a few moments of a stale mate, he pursue Plan B a second time, this time upping the ante by biting harder. As the child asks the second time for candy at the store. The second time, the hand backed off.
He has learned that biting a hand WILL work to get it to move away. Is that bad, and should you have kept your hand there and let him continued to bite it? NO. You did the right thing by withdrawing your hand. The ideal situation for building trust and communication is that we observe the precursor body language to biting, and respond to IT by moving away,
before
the bird moves to Plan B (B for biting).
Usually a bird will start with non-biting body language prior to moving to biting However, if a bird has had prior experience of his body language of back off being ignored (moving away, leaning away, all attempts to get away from the aversive hand), then they may learn to immediately move to biting. We would like the bird to know that if it asks nicely (by leaning away) we will respond by moving away and not need them to apply the bite to make the point. Leaving your hand there to be bit numerous times would only serve to further reinforce the biting behavior. Eventually you would withdraw your hand and the bird would have successfully 'made' you do so. No matter how long it took.
Many birds can have quite subtle body language, but the goal is to respond to it, so that they learn that if they express non-biting body language that says back off, we will respond accordingly and they will not have to resort to biting to get their point across. I would predict that today's scenario would have happened regardless of where you were with the bird - in or out of the cage.
But - you can still work on bonding! A big part of bonding is assessing and understanding the body language of your unique bird. You may approach with food in your hand, and see from across the room that the bird displays 'get back' body language. Since you have observed things that you perceive as an invitation to come forward, it is possible/likely that you just came too far forward too fast. I would try it again, though! This time, perhaps holding the millet in your hand (but not your open hand), so that you are offering the millet stick to the bird for a bite (but your hand is far from close to the bird, and certainly not close enough for a bite. You can help your bird begin to associate the sight of the hand with the offer of a millet stick! If I am afraid of that spider, it could take quite a lot for me to trust it. Lots and lots of positive experience (lots and lots of offers of millet, of having all positive experiences, of not having its zone of comfort breached, etc.) It can take much time and patience, but it is well worth it!
04-16-2009, 11:33 PM
| | | | | |
| --- | --- | --- | --- | --- |
| | Born2Bfree, bred2Bcaptive | | | |
---
How long have you had your budgie?
Do you spend time with him every day working with him?
__________________
© Green-cheek Conure ~ 2 Budgies ~ Fischer's Lovebird ~ ©
No Flock. No Flight. No Fair!
04-17-2009, 12:08 AM
| | | | |
| --- | --- | --- | --- |
| Egg | | | |
---
Thanks to both of you!
Couple of problems here. he actually was sitting on the far side of the cage (he has a large cage), and moved closer, to bite me! Basically, I have not moved closer to him, he moved closer to me.
Nika, I've had him for about 4 years. At first I was working with him everyday, but he seemed terrified. He would not even sit still. He would just thrash around in panic any time I was too close. So after a while I gave up and waited for him to get more comfortable with me. I've been just talking to him, without coming too close to the cage. For the past year or so he started to be more relaxed around me. So this is why I decided to try a little more. I kind of feel bad for him, being all alone, not bonded to anyone.
04-17-2009, 01:02 AM
Hatchling

State:
---
It very well could be cage aggression. My budgie is very tame. But he is developing a territorial behavior when people are around his cage. He doesn't do it all the time but does sometimes. And mighty fiercely at that. Though he can't do too much damage he is persistent. So it could be since he is probably cage bound do to being untamed he is developing cage aggression.
__________________
Shirley

Owner of the greatest animal friends two kids and a husband! HEHE
04-17-2009, 01:14 AM
| | | | | |
| --- | --- | --- | --- | --- |
| | Born2Bfree, bred2Bcaptive | | | |
---
Maybe he is lonely with no one to play with and is trying to tell you that he is not very happy. A budgie friend could probably help
But this is just my opinion, because I'd not keep just one budgie.
__________________
© Green-cheek Conure ~ 2 Budgies ~ Fischer's Lovebird ~ ©
No Flock. No Flight. No Fair!
---
Last edited by Nika; 04-17-2009 at

01:16 AM

.
04-17-2009, 01:51 AM
---
Quote:
Originally Posted by
Nika
Maybe he is lonely with no one to play with and is trying to tell you that he is not very happy. A budgie friend could probably help
But this is just my opinion, because I'd not keep just one budgie.
I agree.
I didn't pay too much attention to Pretty when I first got her. But then I got Winter and I decided that I needed to pay attention to them and things have only gotten better.
You have to work with your bird everyday. You can definitely build a relationship with your bird without having another, but Pretty is a lot more happier with a friend than she was before.
Good luck!
04-17-2009, 01:23 PM
Hatchling

State:
---
I disagree. You should tame your budgie before getting it a mate. Though it is possible to tame a pair it is normally very hard.
__________________
Shirley

Owner of the greatest animal friends two kids and a husband! HEHE
04-17-2009, 01:35 PM
Member of the Month

State:
---
Here I am going to look like I am riding the fence by agreeing with both of you - but I'm not really riding the fence...
Taming two budgies, especially together (in the same training session) is usually
much more
difficult. It can be easier if the two are already somewhat tame, i.e. they will take food from your hand, and then they can take turns taking food or doing things. But generally, this is pretty tricky so you would need to work with them separately. Once you separate them, if they are highly bonded they spend more time concerned about where the other one is (that they can hear calling to them) than they do paying attention in training class!
I'm all for birds having both birdie and human friends, so I would be in agreement that when the circumstances and household set up permit, them having friends is always, always a good thing. But I do not believe that those of us that are single bird owners are abusing our birds because they do not have a friend.
If a bird of mine bonds to their 'friend' much more than me, I am happy for them and will chose not to push myself on them. They may have a certain degree of a bond with me (such as I have friends that I like but am not bonded to them as I am my husband or my own family members), and that's ok. We don't expect to love everyone equally as we do our spouse for example. Getting a friend for my bird I certainly run the risk of being given a back seat; and perhaps rightfully so - the friend is a bird and I am not. I must certainly expect that I might no longer take top billing. That would be natural.
For me, the biggest thing is how we work with them (using positive reinforcement, clicker training, etc.) and how
often
we do this. As Nika pointed out, consistency is everything. A one time a week 10 minute training session really won't accomplish anything. On the other hand, immersing the bird with my presence 24/7 will turn me into an aversive. Something inbetween, including short training sessions and plenty of rewards.
If your bird is making it a point to run over to bite you from the opposite corner of the cage, I would look at where the bird was before he was in the corner. If we see a bird that is near the door, and then I approach and he retreats to the corner, then I should have already backed off long before the offering of a treat. That is clear 'back off' body language. The rub comes in when WE want the interaction, and we think that if we persist, they will understand that we mean them no harm and they will eventually come around. This is not how trust is built; this is more of a prisoner eventually accepting his captivity and acting civil toward the captor. If in this scenario I approached the cage, and the bird retreated to the corner, and then I maintained my hand position or pursued further, I can understand why the bird would move to plan B and bite me to get me to remove my hand. Plan A of retreating (displaying back off body language) did not work. So the bird must take further action. In that instance, it could be cage aggression, fear of the hand, or both. For me, the key is backing off when I see the body language, not pushing through until I give the bird no option but to bite. A bird that has experienced his body language being ignored, will immediately move to biting because he knows that body language in and of itself is unsuccessful in getting the hand to move away.
04-17-2009, 02:49 PM
| | | | | |
| --- | --- | --- | --- | --- |
| | Budgie | | | |
---
i don't think its down to territorial behaviour im not sure what the others have said, (not read them yet) but it may be down to him testing your hand, he may be like you said interested and want to jump on and take the seed from your hand but when he bites you he could be testing you, to see if your hand is "safe" alot of budgies do this when they first get started in tameing. as you said he bite's you hard then your budgie may just be more cautious and want to make sure that your hand is safe and he won't be in any danger.
i know it hurts but try your best to not pull back
so he doesn't get scared, he may surprise you and jump on. my female budgie does this she bites onto me and then sometimes hops on my hand and munches away!
alot of people think there budgie is bieng agressive and bitting them but infact he is seeing if you are safe, i hope he stops to bite you and you have a great bond with him!
sorry if this is just a repeat of what others said! hehe
__________________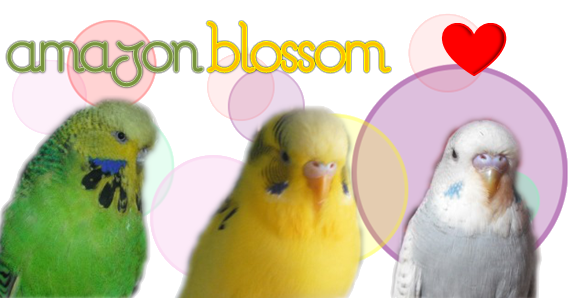 | | |
| --- | --- |
| | |
Posting Rules

You may not post new threads

You may not post replies

You may not post attachments

You may not edit your posts

---

HTML code is Off

---
All times are GMT -4. The time now is
04:23 PM
.