02-23-2009, 12:54 AM
Member of the Month

State:
---
It sounds like she's okay, then. My budgies will sometimes have moments where they bob their tail for a while.
But if Zoe's acting fine, I'm sure she is. For getting Zoe more comfortable with other food than seeds, remember to keep on offering pellets and vegetables/fruits as much as you can. Most budgies take MONTHS to finally accept them (ask any member on here
) and all budgies have their different preferences. I would recommend checking out some of the threads in the "Budgie Diet" forum for different suggestions of how to offer your fruits/veggies.
I hope this can help! Keep an eye on Zoe, but I'm sure she's fine.
__________________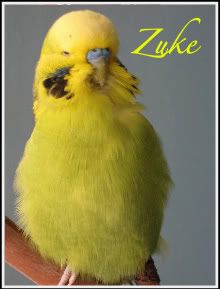 Little Joe and Zuke